Medium-Term Management Plan
1. Medium-term management plan 21-25 basic strategies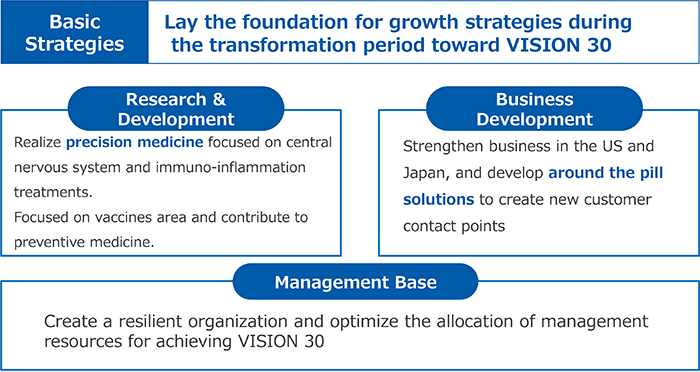 In order to realize the new value in the VISION 30, develop precision medicine and around the pill solutions

*

Considering the differences in people's genes, environment, and lifestyle, provide appropriate healthcare to appropriate patients at appropriate times.
2. Research and Development
(1) Central nervous system area strategies
With ALS, which has abundant drug discovery information, as the entry point, we will quickly identify genes of diseases for intractable neurological diseases, which share causative genes and pathophysiology, and take on the challenge of creating new modalities.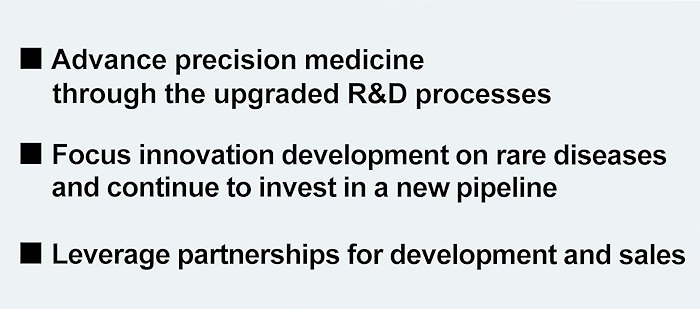 (2) Immuno-inflammation area strategies
Developing immunophenotypes drugs for diseases like systemic sclerosis and systemic lupus erythematosus with various symptoms and few effective drugs

(3) Vaccine area strategies
Strengthen business in the US and Japan, and develop around the pill solutions to create new customer contact points
U.S. and Europe
Establish growth drivers
Expansion of business scale by introducing in-house developed products
Japan
Maintain Japan as the mother market
Deepening the current businesses and broadening to a new business foundation
China and Asia
Maintain Japan as the mother market
Deepening the current businesses and broadening to a new business foundation
Fortify the management base and optimally allocate management resources
| | |
| --- | --- |
| Strategic Investment | Accelerating investment to strengthen business and collaborate with outside parties |
| Organization and HR Reform | Promoting the specialty, diversity, and digitization of organizations and people towards innovation |
| Digital Transformation | Building digital infrastructure to enhance productivity of growth strategies and value chains |
5. Synergy as Mitsubishi Chemical Holdings Group
Under the Committee to explore way to generate synergies, we create them from the three key perspectives of Corporate, Business, and DX