In accordance with the corporate philosophy of "contributing to the healthier lives of people around the world through the creation of pharmaceuticals," the Mitsubishi Tanabe Pharma Group believes that its ability to survive and grow depends on the provision of social value and a contribution to the achievement of a sustainable society through the Group's business activities. To clarify that idea and reinforce our initiatives, we have designated material issues that we need to address as materiality. The Group has positioned these material issues as an important part of its decision-making process, and on that basis, the Group is implementing its business activities.
Process of Designating Material Issues
Step 1: Identify social issues that need to be considered
In designating material issues, the Group considered not only international guidelines and GRI standards but also SASB*1 pharmaceutical industry evaluation standards, ATM index*2 evaluation items, and others. In this way, social issues that need to be considered were identified in a comprehensive manner.
*1

Sustainability Accounting Standards Board. An NPO based in the U.S. that sets and discloses sustainability evaluation standards by industry.

*2

Access to Medicine Index. An index that analyzes and ranks 20 of the world's top pharmaceutical companies on how they make medicines more accessible. Implemented by the Access to Medicine Foundation, an NPO based in the Netherlands.
Step 2: Prioritize social issues
For the social issues identified in step 1, their importance for the Group was evaluated with consideration for such factors as the Group's values and major policies, strategies and specific activity objectives, and risk-related information.
In addition, to evaluate the importance of these issues for stakeholders, we analyzed and organized items that are considered to be important by evaluation institutions that work to promote responsible investing on behalf of external stakeholders. From these two perspectives, we created a materiality map and narrowed down the issues to those with high priority.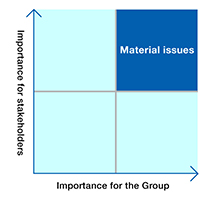 Step 3: Confirm appropriateness and designate material issues
We designated the material issues after the validity of the materiality map was confirmed through consultation with experts from inside and outside the Company. For the seven material issues, we organized and confirmed their relevance in regard to major initiatives, the SDGs, the Group's Code of Conduct, and the MOS indices of KAITEKI upheld by the Mitsubishi Chemical Holdings Corporation (MCHC) Group, of which Mitsubishi Tanabe Pharma is a member.
Material Issues
The table of material Issues, major Initiatives/results, Code of Conduct and related MOS Indices[PDF:209KB]
*For further information about MOS Indices, please see the MCHC website.
Material Issues and Major Initiatives
The Group has established monitoring indicators in fiscal 2019 to track the status of materiality initiatives to help us make further improvements. Please view the links to see examples of our initiatives.
① Pharmaceuticals and healthcare services with differentiated value
Main initiatives and results
FY2019
FY2018
Scope of data collection
Creating new drugs, adding indications, changing dosage and administration, adding formulations, and improving products.
Number of approvals
27 (past six years)
23 (past five years)
(Global)
Number of product improvements
13 (past six years)
13 (past five years)
(Global)
Awards received for drug discovery (total since 2007 merger)
20
18
(Global)
Number of vaccines shipped
19 million
17 million
(Japan)
Number of patients using orphan drugs*3 provided by MTPC
83,000
100,000
(Global)
Relevant KAITEKI MOS Indices:H-1 (Contribute to medical treatment), H-2 (Contribute to the prevention and early detection of diseases)
*3

Medicines for diseases that are said to be intractable disease for which there are few patients and for which no cure has been established.
② Reliable products and sustainable supply
Main initiatives and results
FY2019
FY2018
Scope of data collection
Building systems for a sustainable supply of reliable pharmaceuticals.
The rate of complaints attributed to manufacturing process at group manufacturing plants
1ppm
1ppm*4
(Global)
Satisfaction rating of responses to customer complaints
88.0%
92.4%
(Japan)
Relevant KAITEKI MOS Index:C-1 (Endeavor to earn greater recognition of corporate trust from society)
③ Appropriate use of products
Main initiatives and results
FY2019
FY2018
Scope of data collection
Establishing a drug consultation center, collecting safety information, and providing information related to the appropriate use of products.
Number of external presentations on clinical research (papers/academic conferences, etc.)
84
56
(Global)
Instances of safety information collected by MRs
7,620
7,419
(Japan)
Relevant KAITEKI MOS Index:C-1 (Endeavor to earn greater recognition of corporate trust from society)
④ Ethics, fairness and sincerity in business practices
Main initiatives and results
FY2019
FY2018
Scope of data collection
Working to cultivate an awareness of compliance issues, establishing and observing a variety of policies, and establishing hotlines related to compliance and harassment.
Compliance training participation rate
96.5%
97.7%
(Japan)
Employee compliance awareness (Perfect score: 5 points)
4.41 points
4.34 points
(Japan)
Relevant KAITEKI MOS Index:C-1 (Endeavor to earn greater recognition of corporate trust from society)
Main initiatives and results
FY2019
FY2018
Scope of data collection
Implementing timely, appropriate information disclosure, implementing dialogue with stakeholders including investors and employees.
Number of briefings and interviews of investors
109
198
(Global)
Employee understanding of management (employee survey)
45%
(total favorable)*5
3.68 points
(Perfect score: 5 points)
(Japan)
Number of next-generation educational support activities(visiting lectures, company visits, etc.)
13
10
(Japan)
Relevant KAITEKI MOS Index:C-2 (Promote communication and work in concert with stakeholders)
*5

The total favorable is the total score of the top two response choices (Agree/Tend to agree)
⑥ Employee health, diversity and inclusion
Main initiatives and results
FY2019
FY2018
Scope of data collection
Taking steps to establish a work environment that enables all employees to participate actively, including promotion of health management; maternity leave, childcare leave, nursing-care leave, telework, and initiatives for LGBT employees.
Total working hours (per employee, per month)
150.0 hours
153.9 hours
(Japan)
Usage rate of paid vacation days
72%
68%
(Japan)
Smoking rate
17.6%
19.8%
(Japan)
Employee awareness of diversity and respect for individuals (employee survey)
77%
(total favorable)*5
3.72 points
(Perfect score: 5 points)
(Japan)
Percentage of women in managerial positions
21.4%
20.2%
(Global)
Number of employee nationalities
27
29
(Global)
Relevant KAITEKI MOS Index:C-2 (Promote communication and work in concert with stakeholders)
*5

The total favorable is the total score of the top two response choices (Agree/Tend to agree)
⑦ Social contribution activities for health
Main initiatives and results
FY2019
FY2018
Scope of data collection
Providing support for patient organizations and research, providing information related to diseases, the provision of vaccines in developing countries, and the GHIT Fund.
Number of visitors to health support websites
10.36 million
7.29 million
(Global)
Rate of employee participation in social contribution activities (employee survey)
49.2%
42.3%
(Japan)
Number of organizations supported by Tenohira Partner Program (total since start of grant in FY2013)
110
91
(Japan)
Number of supports provided by health contributing programs in developing countries
15,001 meals,
vaccine 9,361 doses
12,236 meals,
vaccine 14,500 doses
(Japan)
Relevant KAITEKI MOS Index:C-2 (Promote communication and work in concert with stakeholders)