Society > Together with Patients and Healthcare Professionals
Manufacturing and Supply Chain
Stable Supply of Pharmaceuticals
The Mitsubishi Tanabe Pharma Group manufactures and supplies high-quality pharmaceuticals and strictly controls product quality from acceptance testing of raw materials procured in Japan and overseas to the manufacture of GMP-compliant active pharmaceutical ingredients and drug products as well as testing and inspection, thus supplying premium quality products which patients and healthcare professionals can use safely and with peace of mind. As a global research-driven pharmaceutical company, we manufacture pharmaceuticals based on a wide range of technologies and proprietary knowhow developed over many years.
To further ensure quality, the Production Technology & Supply Chain Management Division and the Global Quality Assurance Department collaborate with the Group's manufacturing plants to develop production technologies to enhance quality, stabilize supply, and reduce costs from the early development stages of new pharmaceutical products. In addition, the Group's manufacturing plants (two in Japan and four overseas) together with manufacturing subcontractors are creating a global production system that delivers a stable supply of our products to many people around the world.
In June 2016, we have built a new domestic manufacturing facility within the Yoshitomi Plant for solid dosage formulations. This highly productive facility can supply pharmaceuticals in accordance with global quality standards, while further contributing to both the improvement of manufacturing technologies and the reduction of manufacturing costs.
In addition, BIKEN Co., Ltd., a joint venture with the BIKEN Foundation's vaccine manufacturing business, began operation in September 2017. By integrating BIKEN Foundation's vaccine manufacturing technologies together with Mitsubishi Tanabe Pharma's pharmaceutical manufacturing systems and management methods, we will strengthen our platform in vaccine production, with the aim of contributing to an even more stable supply of vaccines.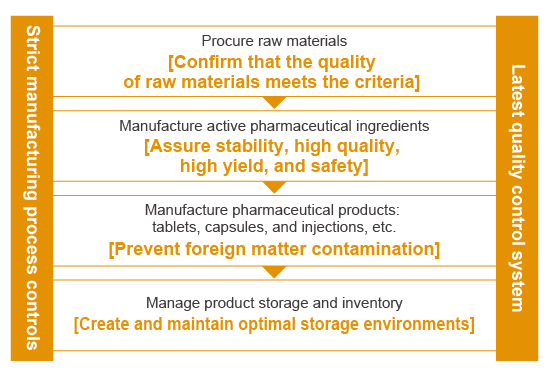 Manufacturing Pharmaceuticals that Everyone Can Use in a Secure, Safe, and Convenient Manner
The Company works to provide pharmaceuticals that can be used in a secure, safety, and convenient manner by patients, healthcare professionals, and others.
This section introduces certain initiatives implemented by the Company to improve drug printing and packaging. Moving forward, we will continue working to steadily increase the scope of pharmaceuticals that are subject to these initiatives and to facilitate the provision of pharmaceuticals that are easy to use for patients and healthcare professionals.
Measures to Prevent Medical Errors
Printing the product name on both sides of tablets
As one measure to prevent medical errors, we print the product name on both sides of tablets instead of the identification code for such drugs as Canalia Combination Tablets, which are a treatment agent for type 2 diabetes mellitus. This measure is expected to help prevent mistakes with tablets during the medicine picking process and to increase efficiency in drug dispensing, as well as to help prevent administration errors by patients.
Labeling of packaging sheets (press-through-package (PTP) sheets)
In order to help prevent medication errors, certain of the Company's products include the product name and ingredients on every pocket of the packaging sheet (PTP sheet). This enables patients to confirm the product name and content, even when single pockets are removed from the rest of the sheet when the drugs are dispensed. We are also striving to further increase visibility. To that end, we are taking steps to implement designs that are easy to see, such as increasing the size of characters and enhancing color schemes.
Measures to Make Drugs Easier to Use
Initiatives with aluminum bags (easier to open and easier to take out the product)
We are also working actively to improve the ease of use of pharmaceuticals. Medical institutions provided feedback that the aluminum bags containing the pharmaceutical packaging sheets (PTP sheets) were difficult to open and it was not easy to take out the product. In response, we worked in cooperation with the material manufacturer to develop aluminum bags that are easy to open and make it easy to take out the product. These improved aluminum bags received the Pharmaceutical and Medical Packaging Award at the Japan Packaging Contest 2016 (sponsored by the Japan Packaging Institute).
Using packaging initiatives to provide explanations of how to take medicine
Some drugs are difficult to take because of the dosage form. To help patients to take their drugs correctly, we print a QR code on the drug packaging and make it simple for them to view a video that explains in an easy-to-understand manner the basic way to take the drug, points to be paid attention to, etc. The video is played if a smartphone, etc., is used to read the QR code printed on the packaging. The objective of this initiative, which is an industry first, is to be useful in such situations as when patients receive compliance instruction at pharmacies and when patients take their drugs.
Manufacturing System in Asia Other than Japan
In Asia, we have manufacturing/sales bases in China, South Korea, Taiwan, and Indonesia, and we provide products that meet the quality standards and market needs in each country.
In Asian markets, especially the Chinese and ASEAN pharmaceutical markets, growth is expected, and to meet this growing demand, we increased production capacity at Tianjin Tanabe Seiyaku (produces oral agents for domestic use) and Mitsubishi Tanabe Pharma Indonesia (produces of oral agents for domestic and ASEAN countries) and built a new building to manufacture drug preparations in 2015 with the aim of accommodating new versions of GMP (China) and PIC/S GMP (Indonesia).*
Mitsubishi Tanabe Pharma Korea, a local subsidiary in South Korea, manufactures high quality injections and other pharmaceuticals as a PIC/S GMP level manufacturing facility, and supplies South Korea, as well as Europe, Japan and China. In addition, Taiwan Tanabe Seiyaku, a local subsidiary in Taiwan, has cleared PIC/S GMP certification and manufactures high-quality oral and external preparations. Among these, sugar-coated tablets are also exported to Japan.
In the future, we will continue to expand business in Asia, a growth market. By providing a stable supply of high-quality products, we will contribute to people around the world who want to live a healthy and prosperous life and fulfill our corporate social responsibility.
*PIC/S: Abbreviation for Pharmaceutical Inspection Convention and Pharmaceutical Inspection Co-operation Scheme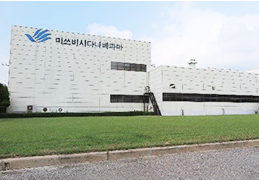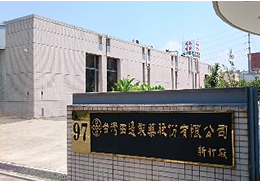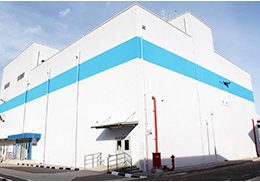 Training Conducted for Overseas Production Staff at Mitsubishi Tanabe Pharma Factory's (MTPF) Onoda Plant

To improve production technology at overseas bases and raise the individual skills of personnel in positions of responsibility, we have been conducting a program since fiscal 2016 to dispatch training staff from overseas bases to Japan for training at MTPF. With a view to addressing the rapid market expansion in China and ASEAN, in October 2019, we accepted Muhari Prianto as a trainee from Mitsubishi Tanabe Pharma Indonesia (MTID) at the Onoda Plant for about six months.

The training taught Mr. Prianto a great deal by having him work in various departments at the Onoda Plant. After his return to Indonesia, he is expected to help improve work skills and performance at production sites such as by streamlining the granulation process locally.

Commemorative photo taken after meeting

Statement by Muhari Prianto's

I would like to thank everyone for providing me with the opportunity to train at the Onoda Plant. I hope to leverage what I learned from my experience here to make a positive impact on MTID's future.

Trainee Muhari Prianto
Managing Distribution to Ensure Stable Supplies
As a pharmaceutical company, Mitsubishi Tanabe Pharma is working to steadily and accurately provide high-quality pharmaceuticals, when they are needed and to the patients who need them. We have built a supply system that can provide a stable supply of drugs to patients, even in the event of a disaster or other unexpected situation.
We ship drugs to customers through a dual-base supply system comprising the New East Japan Distribution Center (Kuki City, Saitama Prefecture) and the New West Japan Distribution Center (Kobe City, Hyogo Prefecture). To reduce a variety of risks that could adversely affect a stable supply, both of these centers have earthquake isolation systems, in-house power generators, and redundant installations of important equipment. In this way, they are designed to be able to maintain a supply of drugs, even during major disasters and pandemics. For example, even if one distribution center becomes inoperable at any time, the other distribution center will be able to provide a continued supply of pharmaceuticals to customers. Even if the system server is hit by a disaster, maintaining a stable supply is our top priority, so we have built a system that instantly shifts to an alternate server at another location.
The distribution centers employ an inventory control system that accurately and carefully monitors incoming and outgoing shipments and inventory control procedures in lot units. The introduction of the inventory control system enables the Company to appropriately store and control pharmaceuticals in a variety of categories, such as by pharmaceuticals characteristics and storage temperatures. In addition, in response to data received from higher level systems, we can rapidly conduct operations without mistakes.
In addition, we periodically conduct training for the employees who use these distribution center facilities and equipment. In this way, we aim to enhance the skills of each employee and to reduce human error. At the same time, by heightening awareness of pharmaceutical distribution extending all the way to the patient, we are working to build a system that can maintain a secure, safe, and stable supply of drugs.
Quality Control in the Distribution Process
Mitsubishi Tanabe Pharma distribution centers take a rigorous approach to quality control in the distribution process. This attention to detail helps ensure that pharmaceuticals are as high in quality when they reach patients as they are when manufactured under the strict GMP of the Company's production plants.
The Company works to maintain distribution quality in terms of both the operational and physical aspects. While complying with the structural facility requirements under the Pharmaceuticals and Medical Devices Law (The Law on Securing Quality, Efficacy and Safety of Products including Pharmaceuticals and Medical Devices) of Japan and other relevant regulations as well as various operational requirements, Mitsubishi Tanabe Pharma's distribution policies, procedure manuals, and facilities are designed in light of the features of the pharmaceuticals handled, and the Company strictly observes these polices and manuals in the conduct of its operations. In particular, for cold storage products, which require rigorous temperature control, in addition to periodic temperature validation and thermometer calibration in cold warehouses, the Company has emergency response measures in place, including a process that provides information when abnormal or emergency conditions are detected and in-house power generators that can be used when electricity is interrupted. In this way, the Company has designed a system that can maintain appropriate temperature management, 24 hours a day, seven days a week.
Mitsubishi Tanabe Pharma designed its entire transportation system with the focus on supplying high-quality pharmaceuticals. Pharmaceutical products are shipped from the distribution centers via contracted transport companies that are in compliance with pre-determined qualifications. With an understanding of the characteristics and importance of the pharmaceuticals that they are carrying, these companies strictly supervise the transport of this cargo, utilizing facilities and vehicles specifically designed for loading and unloading pharmaceuticals. The Company works to maintain quality during the distribution process by carrying out regular inspections of its subcontracting transport companies, as well as using a comprehensive distribution method with precise temperature control monitoring and special insulated boxes for packing the products.
Preventing Contamination by Counterfeit Medicines and their Distribution
Counterfeit medicines could cause damage to the health of many random patients, which is a major health and hygiene issue. To deliver quality medicines to patients, the distribution center has created a system to prevent contamination by counterfeit medicines and the distribution of medicines of questionable quality, including counterfeit medicines.
We regularly verify and record that all customers have received proper authorization to buy medicines (shipped to customers).
To strictly manage medicines, we restrict the people who can enter the storeroom of the distribution center and prescribe the method of entering. In addition, when storing pharmaceuticals, we confirm that the received medicines are correct and have no visible damage.
If counterfeit medicines or medicines of questionable quality are found, we have created a system to immediately suspend sales and transport, and to segregate, and report them to government agencies.
Together with Patients and Healthcare Professionals
Together with Business Partners
Together with the Local Community