Environment
Reduction of Waste, Recycling and Reuse of Resources
The recycling and effective reuse of resources is an important challenge not only for preventing environmental destruction, but also for business sustainability.
Under the Medium-Term Environmental Action Plan, the Group has set the goal of reducing waste and is advancing the 3Rs (reduce, reuse, recycle) from the standpoint of correct handling and effective resource use with the aim of realizing a circular economy.
Reduction of Waste Emissions
In fiscal 2019, the amount of waste generated by the Group at domestic bases declined 1.6% year on year, emissions were decreased 8.8%, and the amount of final waste disposed increased 21%. In fiscal 2019, with the discovery of underground objects during the construction of a new building at the Yoshitomi Plant and the fixtures and furniture from the closure of the Toda Site, we had an unsteady discharge of waste.
On the other hand, the amount of waste generated by the Group overseas increased 7.9% year on year, emissions climbed 7.2%, and the amount of final waste disposed was up 3.1%.
The Medium-Term Environment Action Plan has goals of reducing the amount of domestic waste generated and achieving zero emissions (a final waste disposal rate of less than 0.5%), but in fiscal 2019, the amount of waste generated decreased 1.6% and the final waste disposal rate was 0.72%.
The Onoda Plant, which generates the most waste in the Group, is proactively recycling waste and reducing the amount of final disposal. In fiscal 2019, the amount of waste generated was 3,866 tons, final waste disposal was 0.005 tons, and the final disposal rate was 0.00013%. Although final disposal is comprised of harmful substances and reagents that are difficult to recycle, we continue our efforts to reach zero final disposal.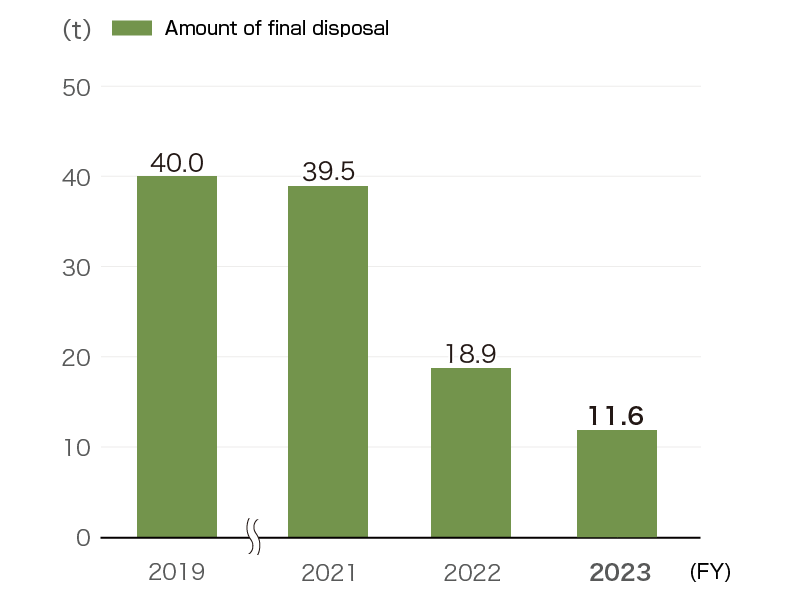 Appropriate Management of Waste
As a waste-discharging enterprise, the Group is taking steps to advance the appropriate management of waste. At domestic bases, we are concluding agreements with contractors for the collection, conveyance, and processing of waste, issuing manifests, and conducting regular on-site surveys of disposal contractors.
When we select a waste disposal contractor, we conduct on-site surveys before concluding the contract to determine whether contracting is even possible.
In April 2020, we began making use of electronic manifests for all industrial waste the Group generates.