Society > Together with Employees
Promoting Diversity
Actively Utilizing Diverse Human Resources
The Group has positioned its approach to diversity and inclusion as one of its management strategies. We have organized that approach into the Diversity Promotion Circle, and we are advancing initiatives on that basis.
Diversity Promotion Circle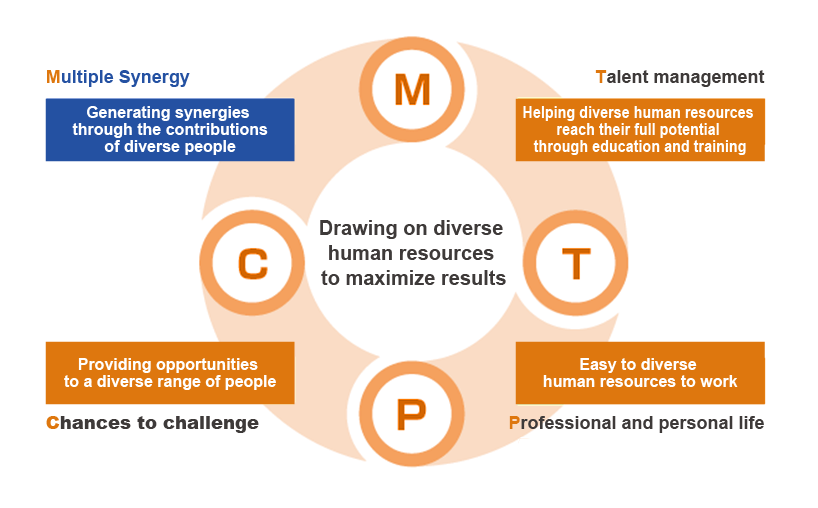 In regard to diversity, we take into account both visible diversity (gender, sexual orientation and gender identity (including LGBT*), age, career background, nationality, disability status, time restrictions due to childcare, nursing care, etc.) and non-visible diversity (knowledge, skills, experiences, values, ways of thinking, etc.). By appreciating these differences and leveraging them, we seek to maximize our results.
*LGBT is an acronym for L: lesbian, G: gay, B: bisexual, T: transgender, and is a generic term for a sexual minority.
In fiscal 2019, we implemented the following initiatives.
Ikuboss* certification test
The test is conducted for Group company management (Section Manager level) in Japan through e-learning. With the goal of getting management to practice appropriate diversity management, the test imparts knowledge of labor management (laws/systems), the Group's system, and the knowledge and behavior required of an Ikuboss.
*An Ikuboss is a boss who produces results and enjoys his/her work and personal life while considering the work-life balance of his/her staff and supporting their career and life.
Holding of the Ikuboss Award
As measures to encourage subordinates to fulfill both work and personal matters, the award commends the company's best practices. The award has fostered awareness of men's participation in childcare and taking childcare leave.
We have taken up racial harassment* as a new project.
*Racial harassment is discriminatory behavior or abuse of others due to race, ethnicity, or nationality.
We continued to implement nursing care seminars and WWW training (WWW: an abbreviation for Win-Win-Woman), which considers the careers of women who have not yet experienced such life events as marriage and childbirth.
On the system side, we revised our existing rules of employment by adding harassment-related behavior and made them subject to disciplinary action. Furthermore, in a fiscal 2020 revision, same-sex partners were included in the scope of nursing care leave and nursing care holidays. We will continue to distribute Ally stickers, which show our understanding of and support for LGBT people. As for hiring, we have eliminated the gender entry column from the hiring entry sheet in consideration of gender and LGBTs.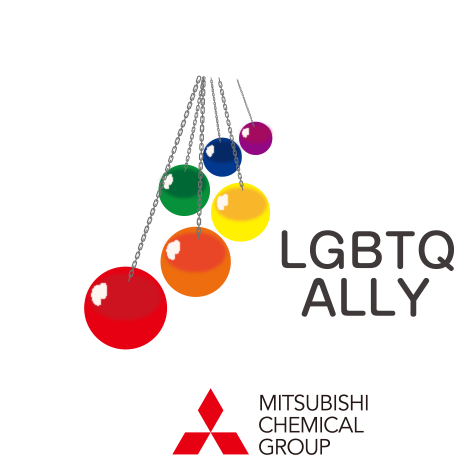 Received highest ranking under "Eruboshi" company certification system based on the Act on Promotion of Women's Participation and Advancement in the Workplace in 2016

This certification system was launched on April 1, 2016. Companies can apply to prefectural labor departments based on their action plans related to the promotion of active careers for women, and the Minister of Health, Labour and Welfare recognizes those with superior initiatives.
Awarded the highest two-star ranking as a leading company in the support of active careers for women in Osaka City, and certified as a company implementing the Ikumen Project in 2017

Under this system, in accordance with established standards, Osaka City certifies companies and other groups that are actively striving to establish environments that support active careers for women.
Percentage of Female Employees with Subsection Managers or Higher or in Management Positions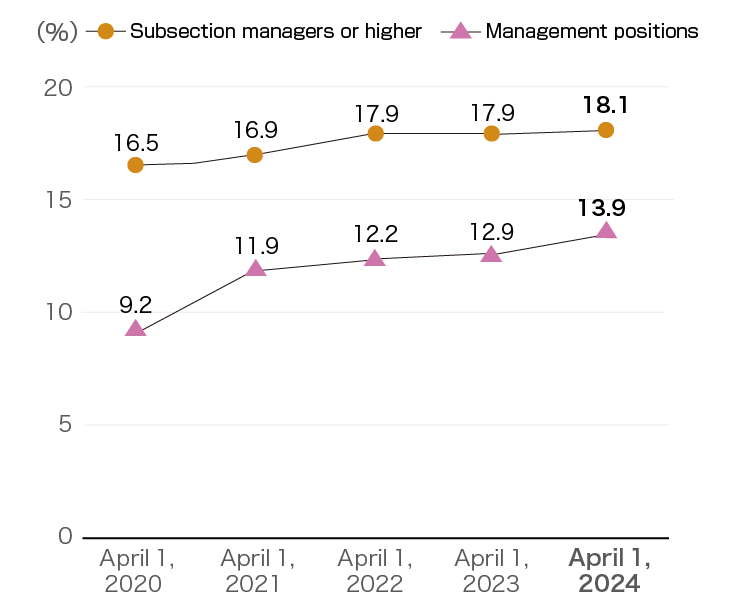 Supporting Active Careers for People with Disabilities
Promoting Employment of People with Disabilities
The Group is actively working to promote the employment of people with disabilities and has expanded the range of duties in many occupations throughout the Group. In fiscal 2020, we will set up a massage room for employees at the head office where visually impaired persons who are government licensed shiatsu massage professionals can apply their skills.
As a result of actively hiring people with disabilities, the Group's employment rate as of March 31, 2020 was 2.24%, and though we failed to reach the legally required rate at the end of fiscal 2018, we achieved it at the end of fiscal 2019. In April 2020, we hired eight people with physical or mental health challenges (including two visually impaired people working at the aforementioned massage room), mainly at Tanabe Palm Service, a special subsidiary company.
We are establishing workplaces where people with disabilities can play an active role.
Employment Rate of People with Disabilities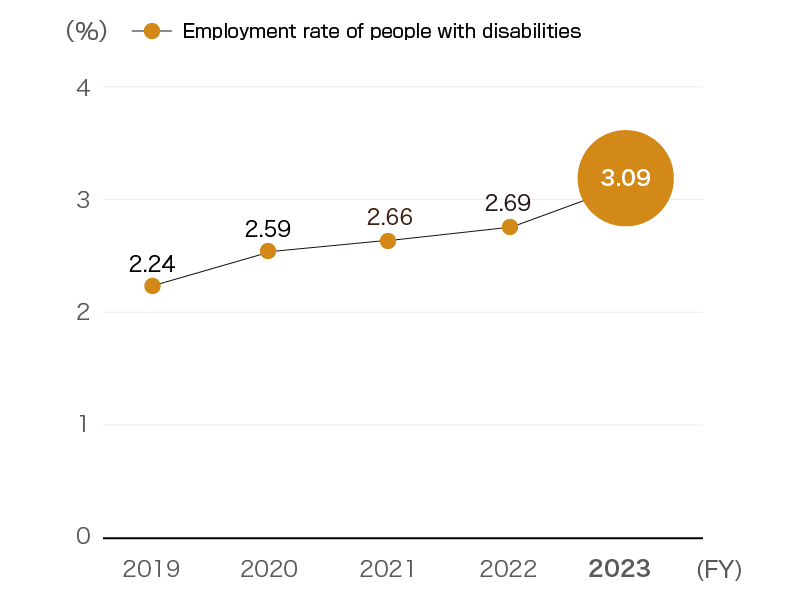 *Rate of employment of people with disabilities for the Group. Fiscal years 2015 to 2016 are on a non-consolidated basis.
Work Description (examples)
Creating Environments that are Easy to Work In
As of April 1, 2020, there were less than 100 people with disabilities working throughout the Group. Among them, Tanabe Palm Service, a special subsidiary, provides a variety of office services, and has about 30 people primarily with intellectual, mental, and developmental disabilities working there.
Tanabe Palm Service seeks to grow with the Company while providing a place where people with disabilities can work with peace of mind by maintaining a comfortable work environment and a system that supports growth. Specifically, we hold monthly interviews with staff members and have regular chats over tea with a small group including the president where we review work, discuss difficulties, and openly communicate. We also hold educational lectures at Group companies and distribute educational booklets to deepen employees' understanding of people with physical and mental health challenges at each workplace. To achieve an inclusive workplace where people with and without physical and mental health challenges work together in the same place, we are eliminating obstacles in the work environment at each worksite. We will continue to make our workplaces even more comfortable to work at in the future.
Held "Challenge for Tomorrow! Academy - Diversity training taught by instructors with disabilities"

On January 27, 2020 (at the Yokohama Site) and February 6, 2020 (at the Tokyo Head Office), as an opportunity to learn about parasports and for employees to deepen their understanding about disabilities, we held the Challenge for Tomorrow! Academy at two sites. Challenge for Tomorrow! Academy is "a training program of listening to, learning from, and thinking together with instructors, who themselves have disabilities, about the reality of people with disabilities on the subject of the Paralympics and parasports" that is provided by The Nippon Foundation Paralympic Support Center. Altogether, about 60 people participated at the two business sites, and you could sense that they were highly conscious of their support for people with disabilities. After listening to a lecture about hearing and visual disabilities, we had an entire day to practice and learn how to deal with a variety of situations and gain a new awareness and confidence in our actions.

Feedback from participating employees

I realized the importance of "listening to the other person's wishes first, without preconceptions."
The words "People's hearts can be changed" really impressed me.
There were many things I didn't know. It made me take notice.
Specifically, I learned how to approach others, and how to explain things in an easy-to-understand manner.
Through actual experience, I was able to understand the anxiety of people with visual impairment. I think I'll be sensitive and able to deal with it from here on.
Support for Diverse Working Styles
In Japan, the Group supports diverse human resources that participate actively in diverse working styles through an enhanced system that helps establish a balance between personal life and work, and the introduction of a flexible work system.
The Group has taken steps to enhance systems that contribute to flexible working styles and enhanced productivity for employees, such as a flex-time system with no core time, a flexible work system for employees in planning areas and specialist areas, and a telecommuting system. To support a balance between work and medical treatment, such as in the case of cancer survivors and infertility treatment, in fiscal 2018, we introduced shorter workdays and treatment leave that employees who need treatment can use. In addition to these systems, we introduced a new infertility treatment leave system in April 2020. Employees who have been treated for infertility but have difficulty with the treatment due to physical distance between them and their spouse, will be able to take a temporary leave of absence under this system.
From an early stage of domestic infections, the Group recommended staggered work shifts and telework to prevent a commuter rush as part of our COVID-19 infection prevention measures. We expanded the scope of our response and removed the limit on the maximum number of times telework could be performed. Further, under the issuance of a declaration of a state of emergency, all employees have shifted to "principle telework" except for the minimum of functional maintenance work, such as our responsibility for drug supply, and safety and quality control as a pharmaceutical company. We approved flexible operation, such as dividing operations into early morning and night, taking into account the internal network load so that work can be efficiently performed even under telework. Employees who cannot work as usual because they need to provide childcare at home due to the closure of elementary schools or because their children are not attending nursery school were provided with special paid leave or full pay for working less than normal working hours, which helped ensure the work-life balance of employees.
Systems to Support a Balance Between Life Events and Work
The Group has established childcare and nursing care support systems that significantly surpass legal requirements. We have created an environment that enables employees to work with peace of mind and balance work and life events, such as pregnancy, childbirth, childcare, and nursing care. We continue to take steps to establish environments that facilitate active participation by fathers in child-rearing.
We will continue to create a work environment where each employee can fully exercise their ability and work energetically.
Initiatives to Get Men to Participate in Childcare
Special leave for husbands that can be taken during the period from pregnancy to childbirth (pre-paternity leave)
Make the first five days of childcare leave as paid leave (for both men and women)
Promote the taking of childcare leave for men (paternity leave)
Initiatives to increase the number of Ikubosses who can take the lead in promoting diverse working styles and manage diverse staff
For the sixth consecutive year since 2007, we were certified as a "general business owner conforming to standards" (Kurumin mark) based on the Next Generation Nurturing Support Measures Promotion Law. In July 2019, we were certified "Platinum Kurumin"* in recognition of our childcare support and working style initiatives.
* The "Platinum Kurumin" certification system recognizes companies that have already been "Kurumin" certified by the Ministry of Health, Labour and Welfare as companies that support childcare and that have taken steps to achieve a higher standard.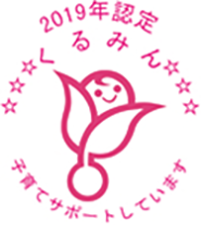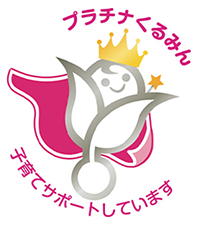 Seventh Action Plan

We have formulated the following action plan for the implementation of initiatives targeting the realization of diverse working styles and the utilization of diverse human resources

April 1, 2018, to March 31, 2021

Objective 1

We will establish a shorter workday system for employees with medical issues unrelated to work (can be used for infertility treatment).
(Measures to achieve the objective and the implementation period)
・From October 2018: Revise internal regulations to establish a shorter workday system for employees with medical issues unrelated to work, publicize this initiative within the Company

Objective 2

We will implement measures for employees to secure time off.
(Measures to achieve the objective and the implementation period)
・From October 2018: Implement work-shift intervals and other measures for employees to secure time off, publicize this initiative within the Company.

Objective 3

We will implement initiatives in order to promote the usage of paid vacation days.
(Measures to achieve the objective and the implementation period)
・From May 2018: Establish and publicize days on which employees are encouraged to take paid vacation days.
Utilization of Leave and Shorter Workdays for Childcare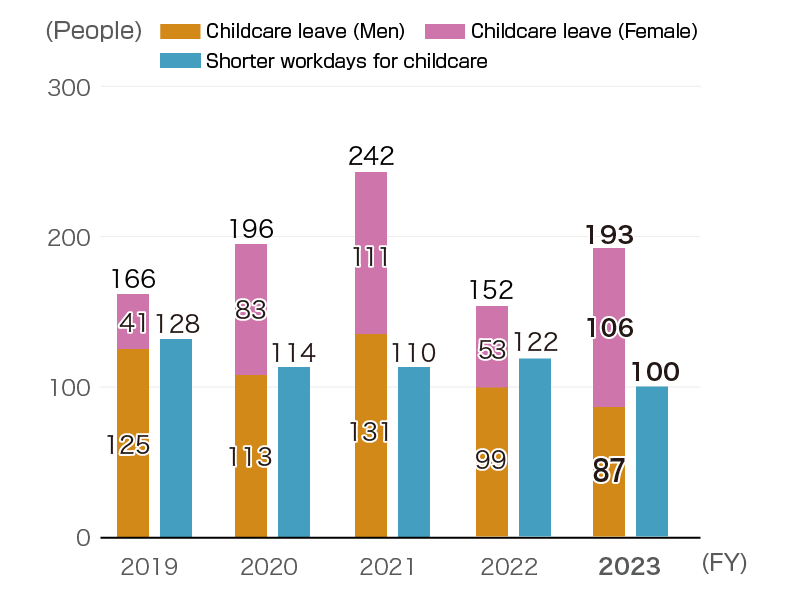 *

The Group domestic

*

Results in the utilization of childcare leave show the number of people who commenced childcare leave during the fiscal year
Utilization of Leave and Shorter Workdays for Nursing Care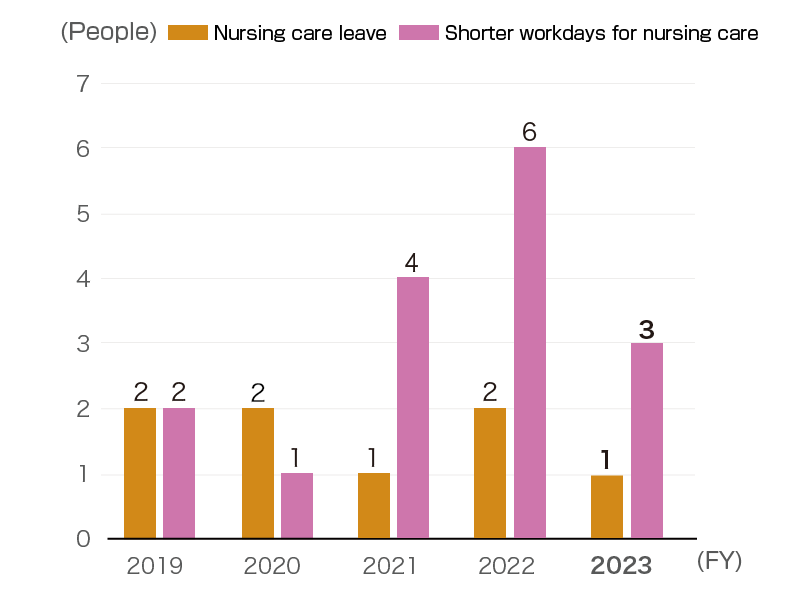 *The Group domestic
Usage of Paid Vacation Days
*The Group domestic
Building Sound Labor-Management Relations
The Group respects the rights of its employees, including the freedom to form a union and the right to collective bargaining. The labor agreement that Mitsubishi Tanabe Pharma has entered with the Mitsubishi Tanabe Pharma Labor Union guarantees the working conditions and rights of union members. As of the end of March 2020, the labor union membership rate was 73.5%. Group management and the union regularly hold management meetings where the Company communicates its management policy and the two parties exchange information on workplace conditions, seeking to more fully understand each other. Members of the Management Council and various labor-management committees, etc., also contribute their views on separate issues, such as reevaluation of various working conditions and human resource systems, in order to realize an environment in which it is easier to work.
Together with Patients and Healthcare Professionals
Together with Business Partners
Together with the Local Community