Society > Together with Employees
Human Resources Development
Basic Human Resources Policy
The Mitsubishi Tanabe Pharma Group is working to further enhance its competitiveness by focusing on its people as a management resource and giving individual employees an opportunity to demonstrate their full potential. To further enhance its competitiveness and achieve sustained growth, the Company operates the Comprehensive Management System for Human Resources.
In addition, we endeavor to develop human resources who act in accordance with the standards of Pride and Sense of Mission, Challenge and Innovation, Trust and Collaboration, and Harmonious Coexistence with Society, which are listed in Corporate Behavior Charter. Under the Medium-Term Management Plan 16-20, aiming to implement reforms to become a "pharmaceutical company that works with a sense of speed and is the first to deliver differentiated value," we are working to "realize a corporate culture with a sense of speed and profit structure."
We are implementing a range of human resources development initiatives that address the ongoing globalization of our business. To that end, we are implementing not only on-the-job training (OJT) but also various off-the-job measures to help employees learn about foreign cultures and develop business English skills. These measures include a variety of group training and language study programs. In fiscal 2017, we began to recruit volunteers for overseas training and to assign them to work at overseas bases. In fiscal 2019, we also assigned a total of six employees from our overseas bases to jobs in Japan.
Comprehensive Management System for Human Resources
This system is a tool for the achievement of management objectives, and the Company thinks it is important to link the system to objective management, evaluation, treatment, training, and utilization.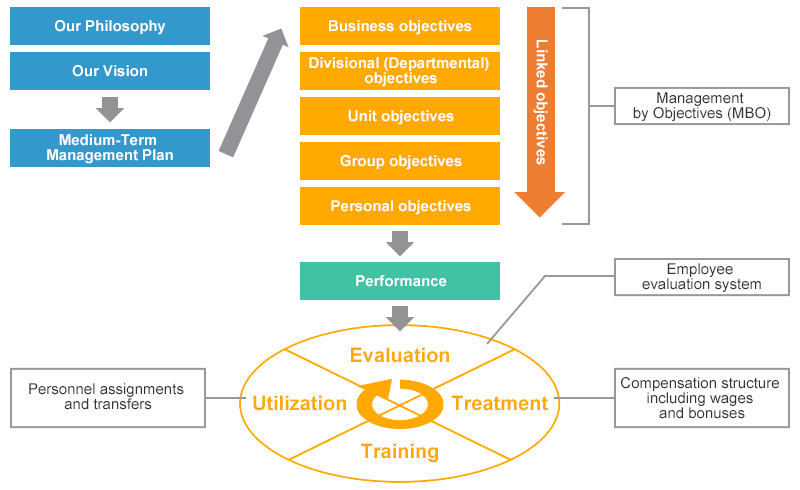 | | March 31, 2016 | March 31, 2017 | March 31, 2018 | March 31, 2019 | March 31, 2020 |
| --- | --- | --- | --- | --- | --- |
| Consolidated | 8,125 | 7,280 | 7,187 | 7,228 | 6,987 |
| Unconsolidated | 4,780 | 4,239 | 4,222 | 4,111 | 3,764 |
| Men | 3,730 | 3,263 | 3,232 | 3,107 | 2,840 |
| Women | 1,050 | 976 | 990 | 1,004 | 924 |
Enhancing Personnel Training
To strengthen our corporate vitality and competitiveness, we must work to enhance the capabilities of our human resources, who are the source of that vitality and competitiveness. To develop people with desired key attributes, the Group supports employees so that they can develop and exercise their capabilities through the smooth coordination of the four frameworks listed below We enhance individual capabilities of employees through in-house training programs as well as daily on-the-job training. In addition to these initiatives, through the assignment of the right person to the right place, we strive to maximize each person's ability.
Framework for developing the ideal human resources
Employment of diverse human resources
On-the-job/Off-the-job training through management by objectives (MBO)
Transfers and rotations
Fair evaluations
The Company is also working to provide support for autonomous employee career management and individual skill development and to develop next-generation leaders and global human resources.
We maintained the program style so that each person could flexibly participate according to their career stage and lifestyle.
To expand employees' view and encourage their self-development, in addition to our existing voluntary in-house training and business skill training with other companies in different industries, we also expanded our use of outside extension courses.
The average amount of time annually spent on in-house group training in Japan was 2.7 hours per person in fiscal 2019 due to the discontinuation of some group training because of COVID-19.
Global human resources development
We continuously conducted OJTO, a training program that specifically emphasizes on-the-job training initiatives overseas.
Of the total of nine trainees dispatched by fiscal 2019, five have already returned to work, and have started new initiatives in departments where overseas experience can be utilized. Of the dispatched employees, one continues to gain overseas experience as an expat.
Next-generation leader development
We continuously conducted MT-VIVID, a management early development program.
We are promoting the strategic development of managers.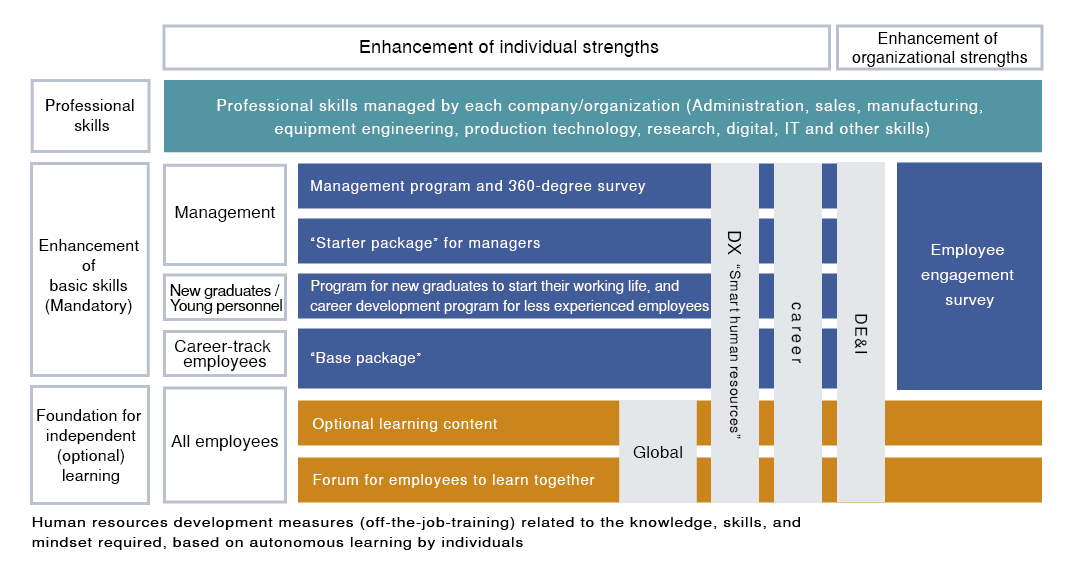 *

NLP: NEXT LEADER Program (NEXT leader)

*

JLP: Junior LEADER Program (Jr. leader)

*

CD: Career design

*

OJTO: On the Job Training Overseas

*

OJTJ: On the Job Training in Japan
Support for Employees Nearing Retirement Age
The Company re-employs those who wish to remain employed after retirement. To provide a place of employment, we are creating an environment that permits diverse work styles including work sharing, and we are enhancing our re-employment system and working to utilize their skills and knowhow even after retirement.
Moreover, we conduct career design training for employees in their early 50s who are considering future careers with a view to retirement. We have actively provided and expanded the environment so that all employees can continue working with high motivation regardless of age.
Together with Patients and Healthcare Professionals
Together with Business Partners
Together with the Local Community