Management
Promotion of Fair Operating Practices
Initiatives for Fair Business Practices
The Corporate Behavior Charter of the Group states that we will strive to maintain high ethical standards and place priority on fairness and integrity in all activities. In addition, the Declaration of Compliance expresses our commitment to conducting transactions in a fair manner based on open competition in the market, giving consideration in transaction relationships not only to laws and regulations but also to social standards, and to maintaining healthy and proper relationships with government and administrative entities while strictly refusing any relationships with antisocial forces. Specifically, based on the Code of Conduct, we formulated the Mitsubishi Tanabe Pharma Corporation Code of Practice, which is described in the following section, and each activity is conducted in strict observance of the following independent standards.
Promotion Code
Transparency Guidelines
Global Policy for the Prevention of Bribery and Corruption
Treatment Guidelines for Medical Institutions
The Japan Pharmaceutical Manufacturers Association (JPMA), of which Mitsubishi Tanabe Pharma is a member company, put the JPMA Code of Practice into effect in 2013. This establishes behavioral standards that must be observed by the executives and employees of the member companies in their interactions with researchers, healthcare professionals, patient organizations, wholesalers, etc. In response, the Company established and put into effect the Mitsubishi Tanabe Pharma Corporation Code of Practice. All executives and employees of the Company and Group companies in Japan are required to follow this code not only in promotion endeavors designed for healthcare professionals, medical institutions, and others, but also in all other corporate activities, including testing and R&D, information provision activities, cooperation with patient organizations, and relationships with wholesalers. Overseas Group companies comply with the codes of each country based on the International Federation of Pharmaceutical Manufacturers and Associations' Code of Practice (IFPMA Code).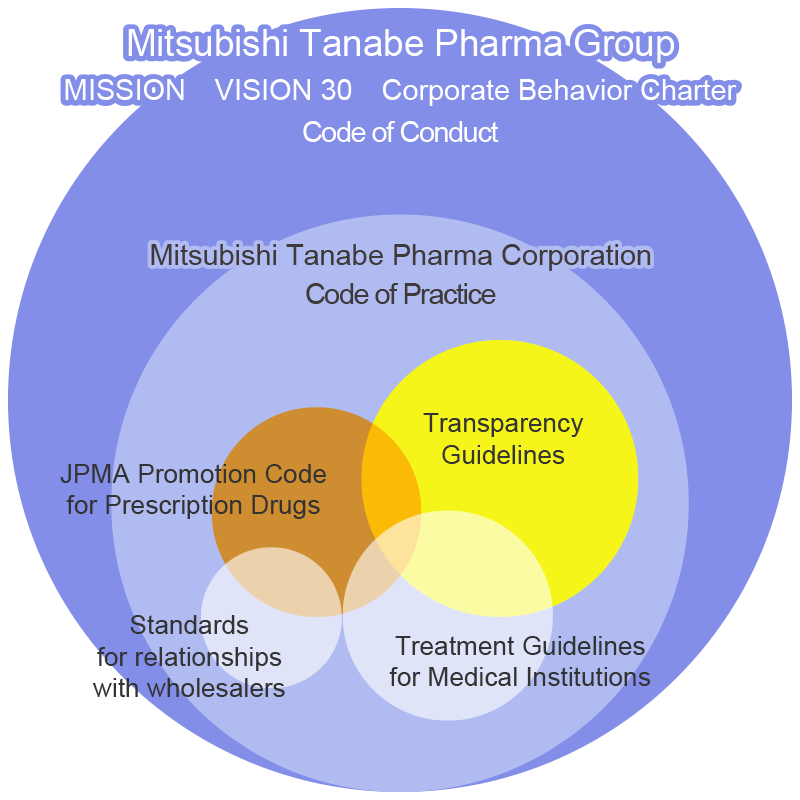 Applicable to all Company executives and employees
Officers and employees of Group companies must also comply with this code
Must be followed in promotion activities and all other corporate activities
Must respond to issues dealing with the Fair Competition Code of the Ethical Pharmaceutical Drugs Marketing Industry
Compliance with Promotion Code and MHLW Guidelines for Provision of Sales Information on Prescription Drugs
In the Japan Pharmaceutical Manufacturers Association's Code of Practice (JPMA Code), for a pharmaceutical company, the word "promotion" as it is used here does not refer to "sales promotion." Rather, it means "to engage with healthcare professionals in the provision, collection, and communication of drug information and promote the proper use and adoption of prescription drugs on the basis of those interactions." The Promotion Code for Prescription Drugs is a part of the Pharmaceutical Manufacturers Code and describes details of promotions conducted by member companies. In accordance with the intent of the Promotion Code, we established the Mitsubishi Tanabe Pharma Promotion Code for Prescription Drugs to promote the appropriate use and dissemination of prescription drugs.
Following the application of the Guidelines for Provision of Sales Information on Prescription Drugs, which sets forth a standard for appropriate sales information provision activities for ethical drugs by the Ministry of Health, Labour and Welfare, in addition to our existing Appropriate Promotion Supervisory Committee, we established an Appropriate Promotion Supervisory Division. The Committee and Division also create appropriate promotional tools and conduct routine monitoring and education on sales information provision activities. We have also established a point of contact for inquiries from outside the Company to properly respond to complaints. Through these initiatives, we promote the proper use of prescription drugs.
Fair Competition Code of the Ethical Pharmaceutical Drugs Marketing Industry
In the ethical pharmaceutical drugs industry, the offering of premiums is restricted by the Code and Notifications to ensure that healthcare professionals make independent and rational decisions (on purchasing and prescribing).
Code

The aim of the Code is to restrict unjustifiable premiums, such as money, goods, services, etc., provided as an inducement to engage in transactions to ensure fair competition among businesses. The Code has its legal basis in the Act against Unjustifiable Premiums and Misleading Representations.
Notifications

Restrictions on matters relating to premium offers in the ethical pharmaceutical, medical devices, and clinical laboratories industries are based on Article 4 of the above act.
The Mitsubishi Tanabe Pharma Group adheres strictly to the Code and Notifications, and respects the International Federation of Pharmaceutical Manufacturers and Associations' Code of Conduct (IFPMA Code), which was established by an organization that the Japan Pharmaceutical Manufacturers Association is a member of, and practices fair medical information activities. In 2019, we have prohibited the giving of personal gifts in the Treatment Guidelines for Medical Institutions.
Initiatives Related to Transparency with Medical Institutions and Patient Organizations
To support not only the discovery of innovative drugs but also the provision and collection of information for the purpose of appropriate drug usage, collaboration and alliances among pharmaceutical companies, universities, and medical institutions are indispensable. However, as these alliance activities become more common, there are increasing opportunities for medical institutions and healthcare professionals to be significantly involved with specific companies or products, and there could be concerns about the extent to which the judgment of both is influenced by this situation.
Accordingly, in July 2011 the Company formulated its guidelines for transparency in relationships with medical institutions, etc. In accordance with these guidelines, the record of payments to medical institutions have been disclosed on the Company's website since fiscal 2012. Disclosures from fiscal 2019 will be even more detailed due to the enforcement of the Clinical Trials Act. The purpose of these initiatives is to secure a broad understanding from society in regard to the contribution made by the Company's business activities to progress in medicine, pharmacology, and the other life sciences and in regard to the Company's high ethical standards in its business activities. In addition, in August 2014 the Company formulated guidelines for managing conflicts of interest with medical and research institutions, etc. We have established principles for avoiding problems with conflicts of interest and a system for managing conflicts of interest, and we are working to operate this system in an appropriate manner.
In particular, in regard to scholarships and donations to domestic medical institutions, which are included in "research and development expenses, etc.," to secure transparency in April 2016 the Company started a system of publicly inviting applications on the Internet. Funding is provided after screening is conducted by a third-party unit.
In addition, in regard to relationships with patient organizations, first it is important for corporate activities to be based on a high level of ethical standards and mutual understanding with respect for the independence of patient organizations. On that basis, to secure a broad understanding from society in regard to our contribution to the activities and development of patient organizations, in April 2013, we formulated our guidelines for transparency in relationships with patient organizations. From fiscal 2013 information regarding the funds and labor provided to these patient organizations is provided on the Company's website.
Furthermore, in regard to the provision of compensation or funds to doctors or to healthcare related institutions or organizations in Europe or the U.S., we are conducting information disclosure in an appropriate manner in accordance with guidelines and laws formulated in Europe and the U.S.
Initiatives to Prevent Bribery and Corruption
Bribery and corruption in business not only hinder proper commercial transactions, they can also have harmful influences, such as serving as the source of funding for anti-social forces. Recently, regulations for bribery and corrupt practices are being reinforced in countries around the world.
The Group has established the "Mitsubishi Tanabe Pharma Group Global Anti-Bribery and Corruption Policy," which applies to all Group companies, with the aim of further strengthening its approach toward prevention of bribery and corrupt practices.
The Group declared in the Policy that it will take a "zero-tolerance approach" to bribery and corrupt practices, and it promised that it will not perform any acts of bribery and corrupt practices. The Group also stated it will establish and operate an in-house system to eradicate bribery and corrupt practices.
Moreover, to further clarify the content of this policy, we formulated Corruption Prevention Guidelines in Japan, China, South Korea, Taiwan, Indonesia, and Thailand, and we are implementing appropriate responses in line with the laws, regulations, and business practices of each country.
Rejecting Antisocial Forces and Checking Suppliers for Antisocial Affiliations
In accordance with rules for the elimination of crime syndicates, the Group's basic policies regarding corporate extortionists, crime syndicates, and other antisocial forces are to not be afraid of them, to not provide any funds to them, and to shun all contact with them. In the face of unreasonable demands, the Group will respond with a resolute stance that is unyielding and uncompromising. Moreover, officers and employees, in accordance with the Group's business conduct guidelines, in all of their day-to-day business activities, consistently avoid relationships with antisocial forces, adhere strictly to relevant laws and ordinances, and act in accordance with social ethics. In addition, officers and employees cooperate closely with specialized external institutions, such as the police, etc.
In addition, in deciding whether to start transactions with new business partners, the Company checks in advance any possible affiliations with antisocial forces. In this way, the Company is working to exclude relationships with antisocial elements.
Protection of Intellectual Property Rights
Under its philosophy of contributing to the healthier lives of people around the world through the creation of pharmaceuticals, the Group has established an intellectual property policy as a basis for providing new medical opportunities and to protect and make effective use of its globally competitive intellectual properties.
In addition to filing, acquiring, and maintaining intellectual property rights including patents and trademarks, we promote an intellectual property strategy that is integrated with our business and R&D strategies, and work to ensure our rights not only at the initial research stage, but also at the appropriate time tailored to the product lifecycle. As a result, the Group held 1,095 registered patents as of March 31, 2019.
Furthermore, the Company respects third parties' valid intellectual property rights by managing intellectual property risks through investigations into the rights of third parties. At the same time, we are working to create a system to protect and utilize our intellectual property by taking legal action and other measures, depending on the situation, in case a third party infringes upon our intellectual property rights.
In principle, the Group does not file for patents or exercise patent rights in U.N.-designated Least Developed Countries (LDCs) and World Bank-specified Lowest Income Countries to contribute to medical access in poor regions around the world.